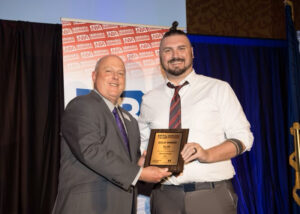 At the annual Pinnacle Awards Banquet on Wednesday, August 9, in La Vista, Broadcast House won six Nebraska Broadcasters Association Awards.
KLIN earned a Gold Award for Best Sportscast with the submission "KLIN Sports with Kaleb Henry."
Froggy won two Silver Awards - one for Best Local Radio Show with "Gary and Johanna" and one for Best Station Originated Community Service Project with "Froggy's Charity Chase." Froggy also earned a Bronze Award for Service to Children with "Froggy's St. Jude Radiothon."
And B107.3 won a Silver Award for Best Online-Only Video with the submission "Gifts of Love 2022" and a Bronze Award for Best Local Radio Show with "Brooke & Bic."
"These awards show how hard work pays off," Operations Manager Steve King said. "It demonstrates how a team can come together on the mission to serve our community every day, in many different ways, through the power of radio. I couldn't be more proud to work beside the best."