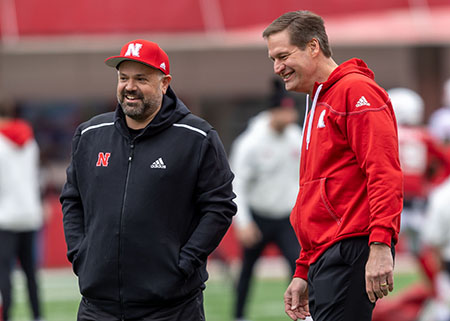 If you want to connect with the best fans in the nation, a sponsorship during our Husker broadcasts is a great way to do it. Whether it's during the game, before or after, or even our shows during the week, Nebraska Cornhusker sports provide a great opportunity to have your business heard.
Broadcast House has more than 11 hours of Husker football coverage every gameday on both KLIN and Froggy 98. Advertisers can align their business with Husker Sports during pregame shows like the Opening Drive and Countdown to Kickoff, postgame shows like the Locker Room Show or Big Red Reaction, and of course, during the game. Then there are shows during the week getting fans ready for Saturday, like Sports Nightly and Friday Husker Tailgate.
KLIN also broadcasts Husker men's basketball and baseball. B107.3 is The Station Where the Women Play, with Husker volleyball and women's basketball broadcasts throughout the season. Join Husker Nation by positioning your business as a supporter of Husker Athletics with a sponsorship during our broadcasts. Contact us to learn more!